AAA Products International Inc.
7114 Harry Hines Blvd.
Dallas, Texas 75235
214-357-3851
Data for 635VC
The 635VC is a 1/4" NPTF side ported, 3 position, spring center, closed center spool, stud operated valve. The internal spool is shifted by a lever and returned to center when released. The handle is oriented toward the 2 port side and bent up. The lever is on the left when facing the 3 port side. This valve is a direct replacement for Hennessy #8185585.
Details
Pressure:
25 to 250 psi on the main body of the valve.
Vacuum:
The five main ports can be operated on industrial vacuum to 28" Hg, based on a 30" barometer.
Temperature:
-20°F to 250°F.
Caution:
If it is possible that the ambient temperature may fall below freezing, the medium must be moisture free to prevent internal damage or unpredictable behavior.
Mounting:
The valve can be mounted in any orientation.
O-Rings:
Viton.
Materials:
Black anodized 6061-T6 aluminum body, hard anodized aluminum spool, A380 aluminum end caps, composite gaskets, steel fasteners, steel lever.
Flow:
73.9 SCFM, 1.6 Cv
Repair Kit:
ERKV-3
.
3-Way or 5-Way:
While this valve is basically
4-way
, it can be used for
5-way
service by using ports 2 or 4 as an inlet, or
3-way
service by plugging the unused port 2 or 4.
Fluid Media:
Soft seal models are made for air, vacuum, and gases compatible with component materials. They should not be used with liquids.
Weight:
1.70 lbs.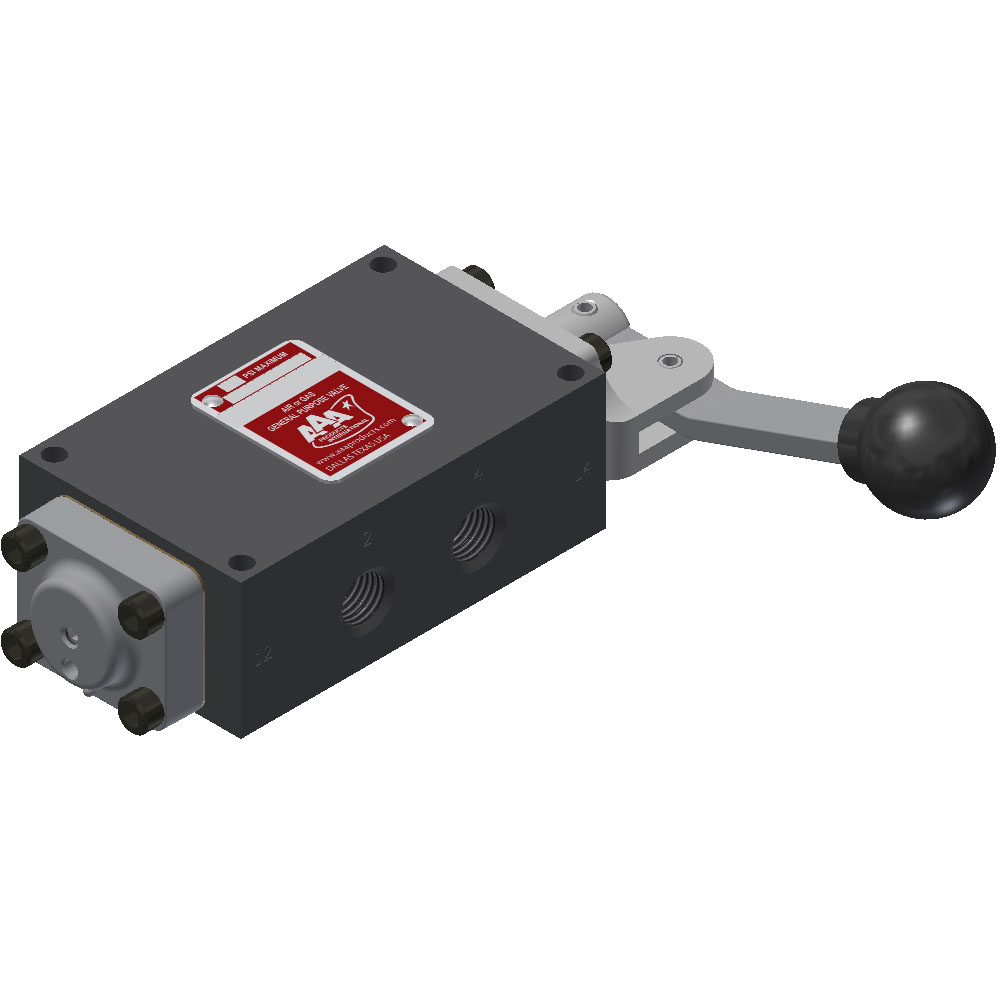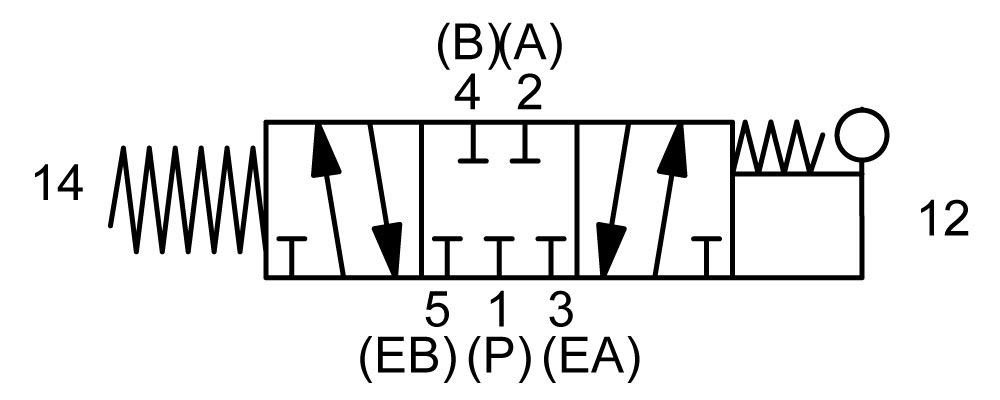 General - Installation & Maintenance
Valves should be installed with reasonable accessibility for service. Exercise care in keeping tubing lengths to a minimum. Plumbing should be free of contamination. Pipe joint compound should be used sparingly applied only to the thread, never the valve body. Over tightening of pipe threads can fracture the joint causing leaks or failure. Protect the valve from exposure to extreme temperatures, dirt and moisture to maximize life. A copy of the instructions sheet sent with each valve is available
here
. Reference
Valve Fitting Installation
for additional information.
General - Lubrication, Standard
All valves are pre-lubricated at the factory using Magnalube-G Teflon based all purpose grease. Valves are suitable for, and perform best in a non-lube service. For long life, use an air line filter/lubricator installed no further than 10-ft. from the valve. The filter should be rated 25 pm or finer. Use a good grade of petroleum base lubricating oil no heavier than
SAE 10W. DO NOT OVER-LUBRICATE
. This could cause the spool to stick.
CAUTION!
Do not use questionable fluids in air line lubricators. Do not use petroleum oil with detergent additives. Detergents, volatile or aromatic fluids may swell rubber seals in valves and cylinders. Never use cooking or vegetable oil as a lubricant. When cleaning AAA valves after extended service, lubricate the valve spool with AAA high film strength grease, or, use O-ring grease which is usually available from supply houses which sell O-rings. Magnalube-G is included in all valve repair kits for proper valve maintenance. If an additional amount of Magnalube-G grease is required, a 0.75 ounce tube is available under part number VGK-3. Never use any kind of oil, cup grease, or automobile chassis lubricant.
Magnalube-G Technical Document
Magnalube-G MSDS Document
General - O-Ring Information
Unless otherwise specified, all 1/4" and 3/8" soft seal valves come standard with Viton O-rings and all 1/2", 3/4", 1", 1-1/2" and 2" soft seal valves come standard with Buna-N O-rings. If a different material is required, use the dash numbers following the basic valve numbering code. For example, model RY3G-2 will have Silicone O-rings installed for a low temperature application. On valves larger than 1" consult factory on availability of O-ring materials.
| Dash No. | O-ring Description | Temperature Rating |
| --- | --- | --- |
| -2 | Silicone | -80°F to 400&degF |
| -3 | Viton for most aromatic gases | -20°F to 400°F, 600°F for short time |
| -7 | Urethane, 70 Durometer | -65°F to 200°F |
| -9 | Buna-N | -40°F to 250°F |
We are constantly researching O-ring materials to evaluate performance and durability in the AAA valve product line. Above is a compilation of the most commonly requested O-ring materials and the associated dash number. If you have a particular application that requires an O-ring material that is not listed, please contact us. Since we utilize standard O-ring dimensions in our valves, we can respond to the most obscure O-ring material request.